The Importance of Legacy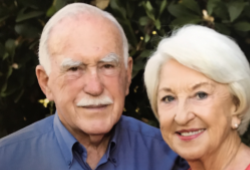 Planned giving is a great way to leave a legacy of hope and transformation.
Ian and his wife Joyce have been deeply involved with the Mission for the last six years. Ian serves on the Board of Directors and has seen the ins and outs of our operations - including the Capital Campaign and remodel. He's been to several graduations, and other events and all the things he's seen and experienced have led him and his wife to name the Santa Barbara Rescue Mission in their estate planning.
" To see these men and women being, if you will, rescued from addiction through the help of Jesus Christ, that's key ," Ian says.
Ian is glad to know that even after he and his wife are gone, some of the funds God has blessed them with will go towards continuing to change lives.